At Lockmart, we are passionate about our trade. We love all things that lock, especially when they provide simple and effective solutions for our customers. That's why we get excited about brands and products that we like.
In this article, we'll be taking a look at Borg keyless door locks and the features that make them a Lockmart favourite when it comes to residential and commercial access control.
About Borg Locks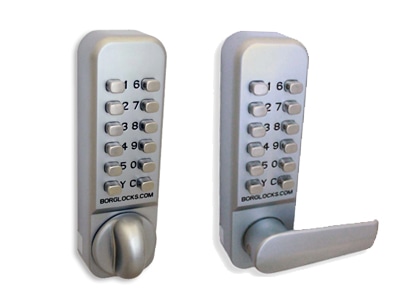 Borg has designed and manufactured premium mechanical and electronic pushbutton locks since 1997. Their use of high-quality materials combined with skilled engineering has meant that Borg has developed an excellent reputation among locksmiths.
Borg products have always been produced with functionality and performance at the forefront of their design. Because of this, Borg has produced a wide variety of products that can be applied to almost any situation.
Borg Products
Borg produce access control door locks for a variety of applications. Their range includes everything from locks designed for light use to those designed to withstand heavy use and resist the elements.
Borg 2000 Series - Fully mechanical keyless pushbutton lock, ideal for internal use and low traffic areas.
Easy to set and change codes with over 8,000 possible combinations
Cycle tested to 50,000 operations
Internal components are chemically treated for increased strength and durability
Borg Easicode Series - Designed to be easy to recode without the need to remove any components, eliminating the possibility of errors being made during recoding. Perfect for internal areas and moderate use.
Load plate design eliminates code cracking attempts
Cycle tested to 100,000 operations
Early clear function
Borg 6000 Series - Built with a single column of eight buttons, the 6000 Series has a unique coding system that allows each button to be set twice in a code. Durable and perfect for heavy use.
Double button press design
Free acting handle
Narrow housing perfect for uPVC and aluminium sections
Applications
Borg locks provide a simple and effective solution for both commercial and residential access control. There is no chance of lost keys or being locked out with Borg keyless door locks.
For your workplace, Borg locks can ensure that only authorised personnel have access to certain areas without the need to cut, and keep track of, multiple keys.
In your home, Borg locks will ensure that you are never locked out and that the only people who can enter your property are those who you have shared the code with.
Why Choose Lockmart?
Lockmart has been operating since 1967 and in that time, we have provided our customers with the best quality locksmith products and services available.

Whether you only need one keypad at your front door or a comprehensive access control system for your home or business, Lockmart has the experience and expertise necessary to provide you with an access control system that will suit your needs.

Read more about residential access control and commercial access control or call us on 1300 594 903.

adsadsds