Ensure your home is safe and secure.
In recent months, there has been an increase in the number of break-ins and burglaries in Victoria. With the uncertainty that this causes for a lot of people, it's important that you're able to feel safe in your home.
Improving your home security is an essential part of not only feeling safe but also protecting your family and your property.
With that in mind, here is some information about the recent events and advice on how to improve your home security.
Police warn burglaries on the rise
The ABC recently reported that "Victoria Police has urged people to increase their home security as they vow to get on top of a spate of violent burglaries and carjackings across the state".
In June this year, The Age reported that burglary/break and enter crimes are up 13.7% since last year while the overall crime rate in Victoria is up by 12.4%. Other theft related crimes are also the biggest contributor to the overall increase in the crime rate. The Greater Dandenong area and south-east suburbs also had some of the biggest increases in the crime rate.
This recent wave of burglaries in Melbourne has a lot of people worried about the safety and security of their homes. While police are urging people not to be alarmed, it is always a good idea to maintain good home security practices and upgrade your security hardware.
Improve your home security
As police are advising people to improve their home security, now is the time to act.
A good way to start is to improve your security practices. This is something that you can do immediately without having to upgrade your security hardware.
Some of the security practices you should do include:
Ensure all doors are kept locked, including back doors and balcony doors.
Lock all windows and other potential entry points.
Make sure that any alarm systems you have are activated.
Many of the recent break-ins and burglaries in Melbourne involved the offenders entering the home through unlocked entry points. Ensuring that all potential entry points are locked at all times is a simple step you can take to improve your home security and safety.
Upgrade your home security hardware
Once you have put good security practices into place, the next step is to ensure that your security hardware is as good as it can be.
Heavy-duty locks and door hardware can help to prevent forced entry by an intruder. If you are considering upgrading your hardware, this can be a good place to start since they are relatively inexpensive.
A comprehensive residential access control system will act as a powerful deterrent to potential burglars. Systems such as motion activated floodlights, security cameras, and alarms will all reduce the likelihood of people breaking into your home.
These systems may seem expensive, but they are an investment in the safety of your family and property. Access control systems also have the advantage of potentially lowering your insurance premiums.
Get expert home security advice
If you don't know where to start with upgrading your home security, or what the security vulnerabilities of your home are, then you need to speak with an expert residential locksmith.
At Lockmart, we have 50 years of experience with providing tailored solutions for the specific needs of our customers. We carry only the highest quality products, and our team are experts on security solutions for residential and commercial premises.
You can visit our store locations in Frankston, Braeside, Mornington, and Rosebud. Our mobile locksmiths also service the Melbourne south-east metropolitan area and the Mornington Peninsula.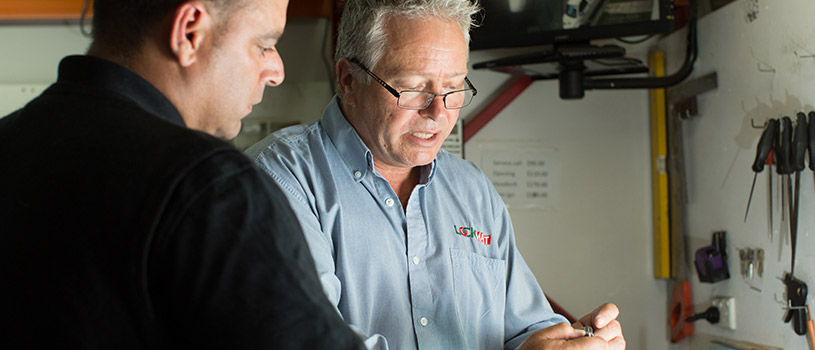 For advice on your home security options, call the Lockmart team on 1300 594 903.

adsadsds