Whether you need simple office locks or a comprehensive access control system, Lockmart can help. We've been in the industry for over 50 years and have everything you need to keep your office secure.
We can recommend and install office locks that will suit the needs of your business, no matter how simple or complex your security needs are.
Choose Lockmart for your office locksmiths
We pride ourselves on providing outstanding products and services. We offer:
Professional service
Licensed locksmiths
Tailored advice
Free, no obligation quotes
For more information about our office locksmiths, get in touch with us here.
Office locks to suit any office
Security for your business isn't something you should overlook. Depending on your premises, you may only need office locks for a single entry point, or you may need a complex system involving many entry points, multiple buildings, or tiered access levels. Whatever the case, you need to make sure your security is adequate for your needs.
Most offices have a significant amount of valuable assets such as computer equipment, production equipment, and stock. Not only that, but you also have sensitive or confidential information such as client and employee records.
Protecting your business with the right kind of office locks is an essential part of running a successful business. Preventing burglary and keeping your assets secure will let you get on with running your business.
Electronic access control for offices
Electronic access control typically offers the highest levels of security for offices. Access control systems can be applied to a single entry point in a standalone system or provide office-wide security in a comprehensive system.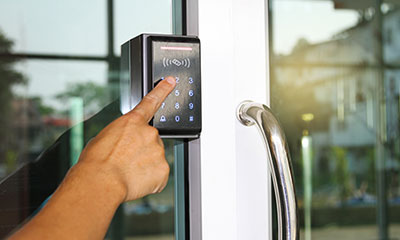 The benefits of electronic access control include:
Achieving the highest levels of security possible for your office
Easily control access permissions for all employees
Establish areas with different levels of access permissions
There are many different ways you can implement access control systems. They can include hardware such as keycards, keypads, security cameras, and alarm systems.
Get the right advice from expert office locksmiths
With over 50 years in the industry, there's nothing we haven't seen before. We can help you with your office locks no matter the scale of the job.

From expert advice to installation, we help you through every step of upgrading your office security. Our office locksmiths can design a comprehensive security system that will perfectly fit the needs of your office and employees.

For more information, talk to our office locksmiths on 1300 594 903 or find your nearest Lockmart store.

adsadsds