In every commercial sector has the potential for  fake operations and dodgy business practices, allowing nefarious individuals to take advantage of unwitting customers. Locksmith services are no different.
Needing to find an affordable residential, auto or commercial locksmith quickly in an emergency is a hassle for anyone. It's precisely this type of scenario that locksmith scammers rely upon. Lost keys, damaged locks or getting locked out create flustered people in a stressful situation needing urgent assistance.
Looking for a trustworthy locksmith services? Get in touch with Lockmart. Our professionally trained locksmiths know that they are in a position of trust, and will always take further steps to ensure that your security is protected.
How locksmith scams work
Locksmith scams often begin innocently. You've Googled a locksmith and everything seem legitimate; from their location, to professional images, to favourable customer testimonials. Nothing seems awry.
You speak to a representative, and they offer incredibly low prices and will dispatch a locksmith immediately. Fantastic! That's precisely the kind of seamless service you should expect from auto, residential and commercial locksmith services.
Things begin to unravel as soon as the locksmith arrives. There will be significant issues with conducting your work. They will tell you the job is more complicated than quoted, the lock needs replacing, and it's going to take longer.
It places you in the vulnerable position of having an unsecured vehicle or premises. You're forced to trust them because you need for a swift solution and you pay up.
Tip: Conduct a thorough check on even legitimate looking websites.

Google reverse images to ensure they aren't sampled from elsewhere.
Be wary of broad location addresses.
Use Google Street View if there is a full address listed.
Low, low prices
Unbelievably cheap prices are a classic scam baiting tool. Auto, residential and commercial locksmiths stating they offer affordable and reasonable prices - yes.
However, low locksmith prices can often translate to compromised products and workmanship from an inexperienced locksmith, or it's a straight-up scam to gain access to the property.
Domestic, auto and commercial locksmith prices vary of course. While it can cost as little as $15 for rekeying a lock, emergency call outs on weekends and after hours fall in the range of $200 and over. 
Always get a quote emailed to you prior and clarify all charges are included and the price is fixed.
Poor customer service
Did the locksmith answer with their company name? Answering with a standard greeting or anything similarly unprofessional is not reflective of a genuine operation.
Another adverse sign is when a locksmith says they will attend in 20 minutes, but they still haven't arrived hours later. Professional locksmiths sometimes get held up on other jobs, and in traffic. However, a professional locksmith from Lockmart will keep their customer updated.
Unprofessional appearance
Locksmiths without a uniform, no formal identification and in an unbranded vehicle are signs of unauthorised operators.
Issues, excuses and an ever-increasing cost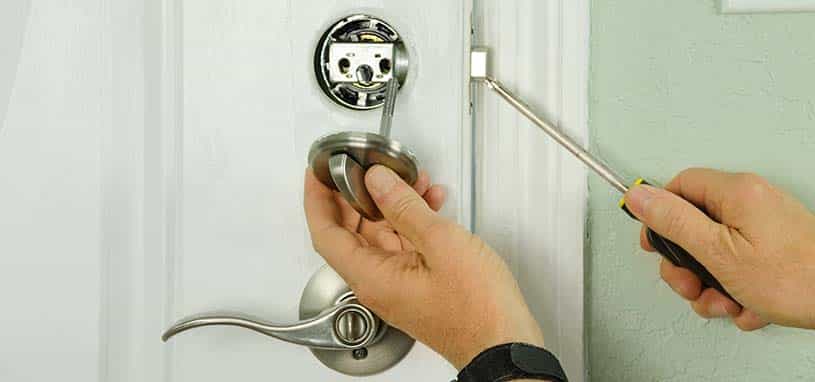 A legitimate and skilled commercial, auto or residential locksmith can pick any lock without damaging it. There's a range of excuses scammers will give you to legitimise that the lock can't be picked, and drilling is necessary. These include:
High security and commercial locks
Unconventional locks or an unrecognised lock brand
Locks are too new or too old
This tactic is used to warrant replacing your lock, which will be with an inferior product charged at an exorbitant price.
Unregistered locksmiths
All qualified locksmiths in Australia will be Master Locksmith Association Australia approved. You can ask to see proof of this. It's acceptable to ask for ID from the auto, commercial or residential locksmith service regardless, as another scam is key copying to conduct theft themselves later or selling keys and information to criminals.
Other red flags
There are several other things to consider when searching for quality locksmith services. These include:
Call centres managed outside of Australia
A receipt without GST, business name, ABN or contact details
Cash only payment terms
Threats to call the police if you don't pay up
If you have been a victim of a scam, you can complain to Consumer Affairs Victoria. However, fraudulent operators are often hard to catch. If you are in doubt based on any of the above scenarios, cancel the job and contact a qualified, professional locksmith.
Trust Lockmart
Your protection is our priority. Lockmart are trusted, compliant, and MLAA registered locksmiths offering 24/7 locksmith services. Backed by 50 years experience in the business, we are the industry professionals to call first when you need a car, commercial or residential locksmith.

adsadsds