Why update the locks on my rental property?
As a landlord, do you know where all your keys are? Old occupants might have them, they may have been copied or even stolen. As well as theft, ill-gotten keys can lead to arson, property damage and voided insurance. To prevent this, you should consider protecting yourself and your tenants with keyless locks.
If you are concerned about the security of your rental property, get in touch with Lockmart. Our team of security experts can advise you on how to bolster your home security, protect your investment and keep your tenants safe.
Here's five reasons you should consider changing locks on your rental property.
1. Insecurity
Nobody wants to live in a property that's unsafe. Updating residential locks will ensure only authorised people who have access to the property, so your tenants can feel safe.
53.9% of prospective tenants say that safety comes first when inspecting a home, according to a survey by realestateview.com.au.
Cutting a new set of keys ensures that only signed and approved tenants have access.
Your tenants are paying to live in security, and updating residential locks is a great step towards providing them with this. Alarms, senors lights, and other security systems are great, but nothing compares to a solid, lockable door.
2. Damage and loss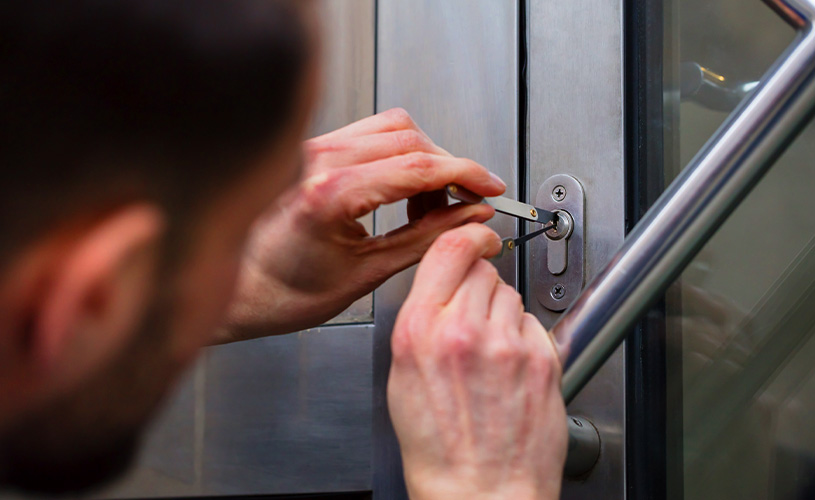 Unforced entry into the home can mean a lot more that just theft. Not changing locks and unknowingly providing strangers with unhindered access to your property can result in:
Squatting and trespass for extended periods of time
Extensive property damage and vandalism
Arson, assault, and other serious crimes
If a person enters your property illegally without using force, then you may be at risk of voiding your landlord insurance. Insurers may not pay out a claim where the owner has facilitated unobstructed trespass, usually by not changing locks.
3. Old occupants
The nature of rental living is that people come and go all the time. If you own a rental property, you may not be able to keep track of everyone who's been there.
Old tenants and their guests may still have the ability to access the home.
Maintenance people and cleaners may still have keys.
Ex-property managers and real estate agents may also have keys that weren't returned.
Lost keys can be tracked back to an address if it has tags that correspond to an address.
It's usually up to the property manger to keep track of keys when a lease ends. However, changing locks or having your property re-keyed can prevent any old inhabitants from making an appearance down the track.
4. Copycats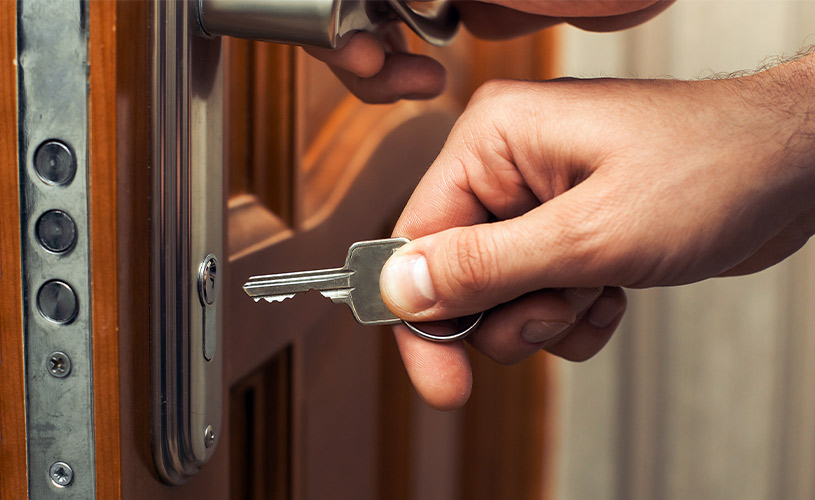 Most keys can be copied for under $10 at any shopping mall or hardware store—no questions asked. This gives scrupulous burglars plenty of opportunities to find their way through without breaking and entering.
Burglars can observe occupants from afar and see where they leave spare keys. They can copy the keys and return at their own leisure without arousing suspicion.
Lost and found keys can be copied and returned to an oblivious owner.
A great way to prevent against copied keys is to purchase a Restricted Key System. This allows you, as the owner, control of your property and who has access. Lockmart keeps meticulous records of how many times these keys have been cut and copied, so you'll always know who can get in.
5. New methods
Modern security methods no longer rely on chasing up keys from old occupants. Access Control Systems are perfect for residential homes and apartments, offering landlords and tenants greater peace of mind than traditional key systems.
Keyless door locks use permission-based technology like numbers and codes
Tenants will never be at risk of losing their keys or having them stolen.
More complex systems include multiple entry points and biometric identification.
Keyless access systems are cost effective ways to limit access to the property. Codes can also be changed at the request of an owner or tenant, so nobody has to worry about people gaining unwanted access. They also suffer no wear and tear, and cannot be picked.
Talk to an expert
If you're a landlord, it's important to be proactive about the security of your properties. Updating residential locks can prevent against theft, damage and trespass. Installing keyless entry systems may prevent an incident before it happens.

Lockmart's residential locksmiths can provide you with a comprehensive range of security options for any budget, from basic to high tech. Enjoy the peace of mind knowing your property is protected with a security system that is designed just for you. Contact us today.

adsadsds