The need for a customised system.
An access control system controls pathway use – whether this is a single door in the family home, or for the management an entire apartment complex. Modern access control systems make this task easy; the advent of electronic locks and key-less entry have improved convenience for the user and monitoring for the controller.
A locksmith's job is to make access control simple, no matter how complex the technology may be. To achieve this, most large-scale access control solutions for business will employ a combined mechanical and electronic access control solution – that is, a combination of electronic and physical keys and locks.
At Lockmart locksmiths, we take great care in determining the right access control solution our clients. Read on to find out how we determine the right mix when it comes to implementing an access control solution.
For more information about access control systems and modern locksmith services, call the team at Lockmart on 1300 594 903.
The basics of access control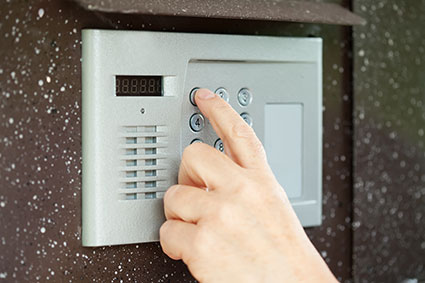 First, what is access control? An access control system is a physical system that either permits or restricts user access to a certain location, area or resource. A well-designed system by an experienced locksmith will improve the security of the premises, as well as increase site safety and convenience for workers, visitors or residents.
A comprehensive access control system includes a number of components, such as the ability to assign various permissions and restrictions to users, as well as the method/s of access point authorisation. Take, for example, a user who needs to access a restricted area: a two-factor-authentication system could be designed so that the user needs both a physical key and a PIN in order to gain access.
Pathways are another key part of an access control system. These are site 'access points', such as a door, gate, or other entry/exit to the premises or area. Pathways can be identified as either Primary or Secondary Pathways, according to their function and use.
For more information about the basics of access control, read our online locksmith resource 'What is Access Control?'
Types of access control systems
Locksmiths can employ two types of access control systems, Mechanical solutions or Electronic Solutions. A Locksmith can incorporate components of both systems to create a combined solution.
Mechanical Solutions. Mechanical solutions are a widespread example of access control. These can be simple locks which can be opened using a metal key, or could include more sophisticated master key systems.
Electronic Solutions. Electronic Access Control Solutions are sophisticated and modern methods of access control. These systems limit the use of physical keys in favour of electronic locking mechanisms.
Combined Solutions. A combined access control system takes both mechanical and electronic components to create a customised solution. Using a mix of technology allows users to experience the advantages of both systems.
Why use a combined system?
Both mechanical solutions and electronic solutions have their own advantages, disadvantages and risks.
Mechanical systems are basic locksmith solutions that are widely available and easily understood by users. However, in some cases they may not be a sufficient security solution or easy to manage over large scale sites. For example, a lost or stolen key can become a security risk, which may require the re-keying of an entire site – a costly and time consuming process.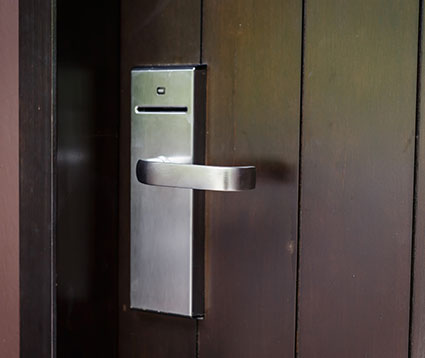 Conversely, electronic access locksmith solutions offer high levels of security and customisation, however their installation and maintenance requires specialist locksmith knowledge. In addition, electronic locks may not be necessary for every access point across a site, such as secondary pathways.
A combined solution which uses both mechanical and electronic systems will minimise complexity and cost, whilst offering maximum security, convenience and safety. The design and implementation of a combined solution should be conducted by a specialist locksmith to ensure the result is a cost-effective, efficient and user-friendly system.
Implementing a combined solution
Access control systems need to be tailored to the needs of a site, to ensure that the system is effective, efficient and user-friendly. Like all well-designed systems, this starts at the planning stage. At Lockmart, our access control specialists assess the site and its access points to identify primary or secondary pathways.
The method for identifying access points is as follows:
Identify Primary Pathway Access Points. These points are doors that are considered to be the normal entry and exit points. Primary pathway doors will have their access controlled using electronic systems and locks.
Identify Secondary Pathway Access Points. These doors are access points that are not normally used to gain access to the site, and will be controlled using a mechanical locking solution. These pathways may include Emergency Exit Doors or a second entry door into a room. Where necessary, these external doors also may have a locking function that will allow users to unlock the doors from inside.
Identify other Access Points. There may be other doors on the site that are accessed from the outside of the main buildings but still need to be controlled, such as stores or toilets. In these cases, these access points could have either a mechanical or electronic access control solution, depending on their use and user requirements.
Once each pathway has been identified and categorised according to their use, an access control system can be designed and implemented. Naturally, a locksmith will also need to consider other important factors during this process, such as compliance with building and construction codes, and have the processes to ensure that these standards are met.

Contact the Melbourne locksmiths who are experts in access control
At Lockmart, we have been working with Melbourne homes and businesses to develop customised access control systems for over 50 years. Our modern locksmith solutions vary in complexity, customisation and cost. From simple keys and keypads to biometric identification systems, we can design a combined mechanical and electronic solution to match your site's needs.

Call the locksmith team at Lockmart on 1300 594 903 today to get a free, no-obligation consultation with an access control expert.

adsadsds