Commercial keyless locks are devices that allow you to unlock a door without the need for a conventional key. It allows employees to access your building using a keypad, swipe card, or even a smartphone app.
Commercial keyless locks can provide a number of benefits to your business's security system. Once installed, a keyless lock system is the perfect balance between ease of use and optimal security.
Contact Lockmart to get a new keyless lock system installed in your office.
1. Easy to customise and control
Commercial keyless locks can provide you with new ways to grant access to your building. You'll have control over who gains access to your building, how long for, and exactly which days they can visit. Its the freedom to grant access to staff or visitors when they need it, and keep the building secure when they don't.
A keyless access system enables you to change passcodes with ease. There's no need to visit the locksmith whenever a new employee starts or leaves. If someone loses a keycard, it's merely a matter of programming a new one.
2. Various ID options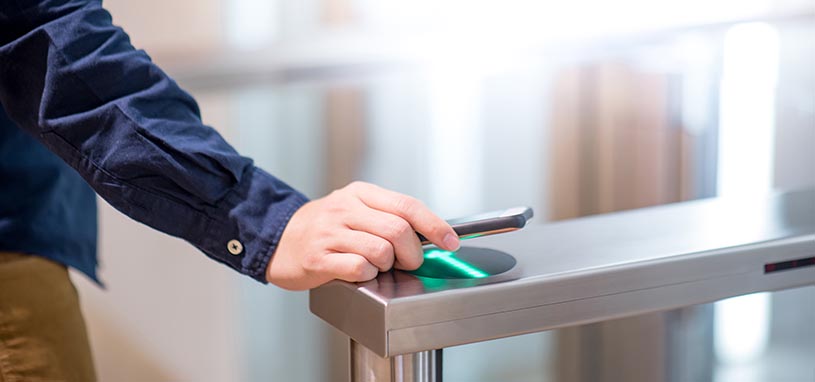 Commercial keyless locks can offer various ways of identifying and granting building access. Fingerprint scanners are one of the most convenient options for granting access to users. There's no need for the user to carry around a key for access. With a quick fingerprint scan, your employees can open a keyless lock with ease.
Smartphones can also be used to grant access to your building. Using a smartphone security app, your keyless system can identify your employees and grant them temporary access. With your smartphone acting as a key, it negates the need for you to carry around any additional keys for building access.
3. Temporary security access
Not all personnel need to have permanent access to your building. Commercial keyless locks can be programmed to grant access to freelance and temporary employees when needed. Cleaners and tradesmen who carry out work on your building can also benefit from temporary access.
Access times can be adjusted with commercial keyless locks to help you limit the use of utilities after-hours. Your business could be saving thousands of dollars in electrical bills by simply limiting when the building's utilities are used.
With commercial keyless locks, you can create pathways for building visitors. You can choose what time of the day certain people can access specific areas of your building. Creating these 'primary' or 'secondary' pathways is an easy way to manage access for hundreds of employees and visitors.
4. Timesheet tracking
Commercial keyless locks can help you track people going in and out of your building. Timestamps can be established each time employees use your keyless security system. You'll have a clear picture of who's leaving your building and when.
Integrate these locks with your rostering software and you'll be able to track the exact time employees starts or ends their shift. It's another great opportunity for automation that will simplify the way employees login for a shift.
5. Alarm system compatibility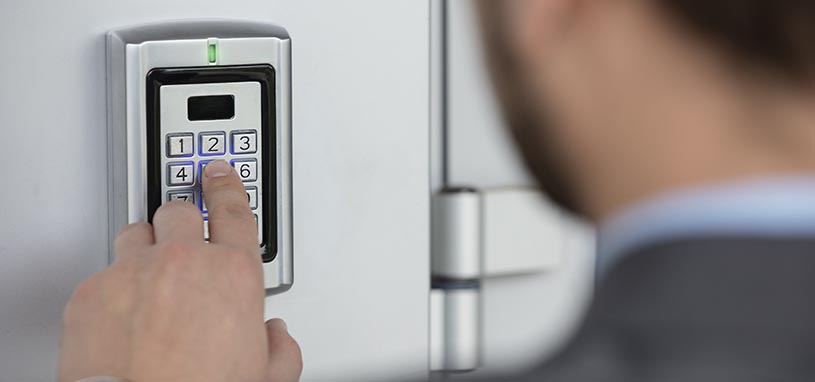 Does your office already have a high-tech security alarm system? Commercial keyless locks can be installed and integrated with your alarm system. So your new keyless locks could be used as a trigger to set off a security alarm.
You may not have an alarm system connected to your building's man points of entry. Installing commercial keyless locks can provide you with the perfect opportunity to install a new alarm system too. With integrated alarm and access systems, you'll even greater control of your building's security.
How Lockmart can help
Here at Lockmart, we believe simplicity is key when it comes to choosing the right commercial keyless locks for your business. A keyless lock system should be simple to use and customise. Granting building access to a new team member should take minutes, not days.

Our locksmiths are very familiar with the industry's leading brands of commercial access control systems. Here are just some of the great products we currently offer:

Salto keyless control systems provide a secure and user-friendly solution for building access. Control access to all of your building's entry points through one intuitive software program.

Bosch is widely known in the industry for providing safe and efficient security systems that grant you commercial access control.

Inner range provides industry-leading security solutions including their commercial keyless locks that can be controlled with Android and iOS apps from your smartphone.

Tecom offers a range of commercial access control systems that are perfect for small and growing businesses. Commercial keyless locks with integrated swipe card technology are available.

Our security specialists can design a keyless lock system that integrates seamlessly with your security systems. We'll listen to your needs and carry out a thorough inspection of your commercial building.

Call the experts at Lockmart on 1300 594 903 to see what commercial keyless locks are available.

adsadsds